Affirmative Action Requirements for Government Contractors
Executive Order 11246 prevents contractors from acting in a discriminatory manner
Primary and sub-contractors are held to higher standards when it comes to equal opportunity employment and affirmative action requirements. This is highlighted through the introduction of Executive Order (EO) 11246, which prohibits primary and sub-contractors from employment discrimination, and requires them to take significant steps toward affirmative action hiring. In addition, EO 11246 allows the Office of Federal Contract Compliance Programs (OFCCP) to evaluate and enforce non-discriminatory policies. Typically, this means that government contractors have to demonstrate how they are pursuing non-discriminatory hiring practices, and also forces contractors to carefully document the steps they have implemented to show that they are preventing discrimination based on race, color, religion, sex, national origin, sexual orientation, or gender identity.
The basic requirements of the Executive Order 11246
Executive Order 11246 provides basic requirements for primary and sub-contractors, and includes the development and maintenance of a written affirmative action program (AAP). Other basic EEO requirements for contractors include:
Nondiscrimination in employment
Public placement of EEO posters
Include the EEO tagline in employment advertising
Keep the following records for a total of two years from the date of file creation:

– Job descriptions
– Job postings and advertisements
– Records of job offers
– Applications and resumes
– Interview notes
– Tests and test results
– Written employment policies and procedures
– Personnel files

Allow the OFCCP to access the records during an investigation or compliance review
File an annual EEO-1 report

– Who must comply: Private employers that are subject to Title VII and have 100 or more employees; and all federal contractors with 50 or more employees that have a contract or subcontract of $50,000 or more.
These regulations apply to all contractors unless they are specifically given an exemption or have contracts or subcontracts of less than $10,000. Also, the type of contract may make a difference. For example, the OFCCP may provide different requirements for a supply and service contract (non-construction contract).
How to comply with EO 11246
In addition to following the basic requirements of the Executive Order 11246, government contractors can enforce their own protocols that will help ensure compliance with EO 11246 and affirmative action regulations. Some steps that you and your contractors can take are: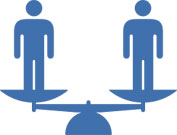 Implement self-audits of your onboarding, human resources, and hiring process, which may help you identify significant weaknesses that your company should improve.
Make sure that your job postings and hire forms contain equal employment criteria, which can be used to satisfy OFCCP investigations and compliance reviews. Remember, it is optional for applicants to fill out certain equal employment opportunity information.
Human resources consulting and third-party recruiting companies specialize in identifying employee administration weaknesses. Take advantage of their specialties and make circumventing compliance issues a much simpler task.