With new cases of COVID-19 on the decline, governors across America are being pushed to lift stay-at-home orders to restart their local economies. This is good news for business owners desperate to bring back some semblance of normalcy. They are still reeling from the effects of the last couple of months.
The three-month state of suspended animation has not been kind nor cheap for businesses. As much as much as we are eager to resume normal business operations, going back to business as usual is not an option. The world is not the same place it was three months ago. This means that bringing back your workforce will not be as simple as opening your doors, but it is doable with the proper policies in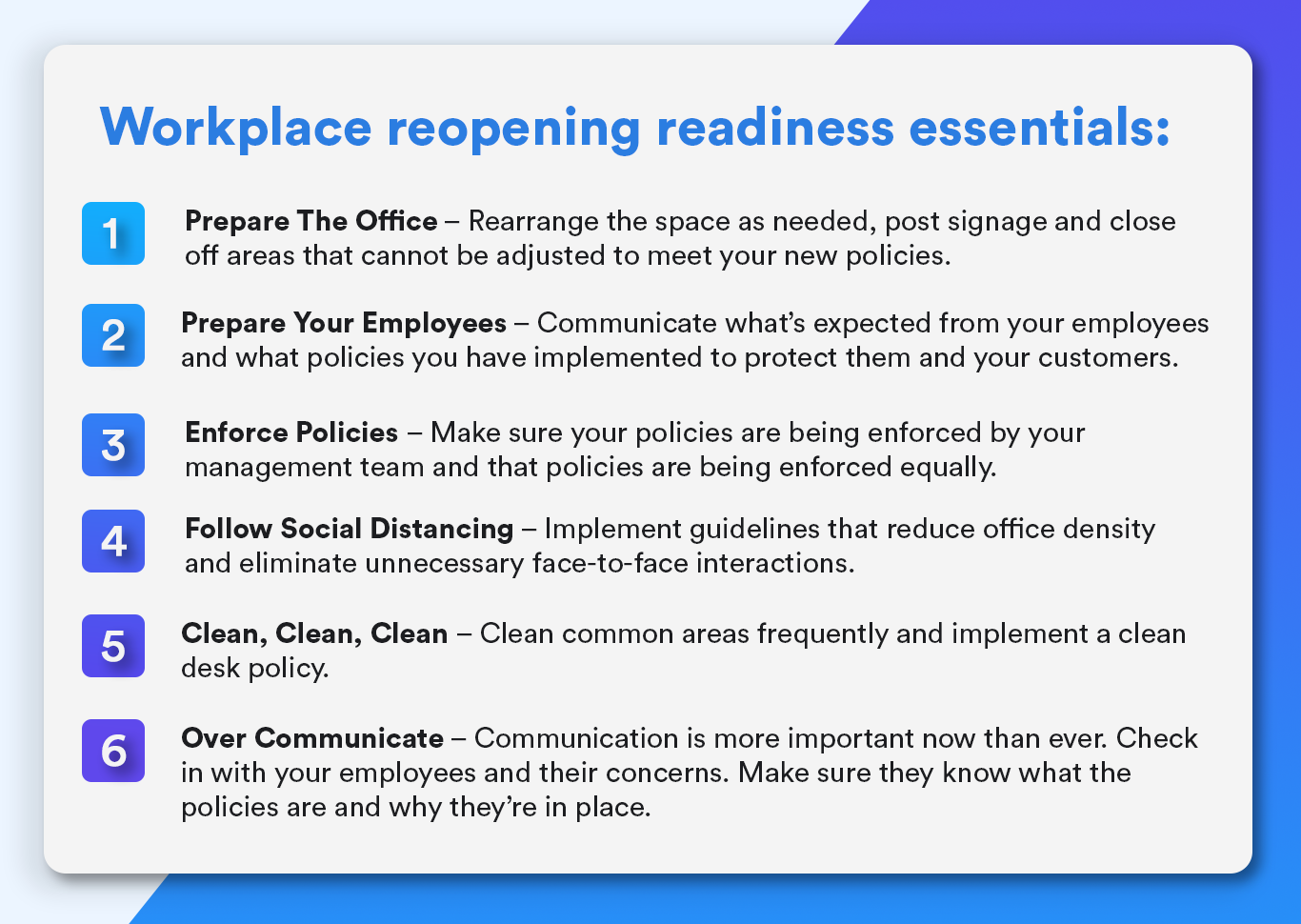 What to consider before bringing workers back
Ensure compliance with local regulations
First and foremost, you must be aware of and understand your local laws. This holds especially true if you have multiple work locations. The government's disjointed response to the pandemic has left us with a patchwork of laws that can differ from city to city and county to county. Make sure you're compliant with local statutes and regulations. If you're a client of XcelHR, reach out to us and we will help you make sense of your situation.
Review Organizational Structure
Second, reevaluate the structure of your organization and recalculate your operational budget. Do you need to eliminate or combine old positions? Do you need to create new ones? The market has changed and it's likely that your organization's needs have changed as well.
Determine which positions can be done remotely and who will need to come back to the office. Many tasks can be done from home, allowing for greater social distancing and safety for those who need to be in the office.
Revise the office space layout
The CDC suggests that you continue to observe social distancing in the office. This may mean that you need to reorganize the layout in your office. If possible, create distance between work areas and erect barriers between workspaces. Eliminate or reduce the use of common areas, like breakrooms. If common areas are needed, create policies for the proper use and cleaning of these areas.
The CDC also suggests that you establish policies that promote good hygiene and cleanliness, including policies that promote proper handwashing, cleaning work areas, and the regular use of reusable cloth facemasks.
For employees returning to a worksite, make sure they understand what is expected of them in the workplace. For example, must they wear face masks or face coverings? Will protective items and hand sanitizer be provided? Are workplace hours different? Will you be taking employees' temperatures each day when they arrive? Is teleworking or staggered shift work allowed/encouraged?
Assess your team's personal situations
It's also important to assess your team's personal situations. Do they have a child at home whose school or daycare is closed? Do they live with someone with a compromised immune system? Once you have a snapshot of what's happening with your staff, determine what kind of accommodations you can make. How you move forward will also depend on your local laws. If you're an XcelHR client, you don't have to figure this out on your own. Please reach out. Our team is ready to help you navigate your options.
Train your team
On top of training and communicating expectations to your employees, train managers on supporting employees that may face increased personal challenges during this time. Common stressors may include bereavement and loss, childcare and school-cancellation challenges, financial stress, and other dependent care and support needs.
Communicate with your customers regularly
Now that you've determined how you're going to staff the reopening of your business, it's time to create policies that ensure the health of your customers. As always, it's vital to be aware of any local public health policies or requirements that may affect your business.
Just because your local government has given the ok to re-open does not mean people will come back in droves. A survey by Numerator found that of those surveyed, 71% said their regions had entered at least Phase 1 of a reopening plan, which allows some non-essential businesses to reopen their doors. The majority (45%) of these individuals said the reopening had not changed their level of concern regarding the virus, but many (40%) said their concerns had increased slightly as their regions began reopening. This means that one of the biggest obstacles to increasing business is reducing customers' anxiety around coming into your business.
So, how do you do that?
The first step is to establish policies and procedures to keep customers safe. The policies should go above and beyond to ensure that your customers are safe. To maximize your precautions effectiveness in reducing anxiety, they should be hyper-visible to your customers.
The next step is to communicate your policies to your customers. Use every communication channel you have and reiterate them at every opportunity. This will drive home that you're taking their health and safety seriously and that you are doing everything you can to keep them and their families safe.
Don't forget, communication with your customers should not be a one-way relationship of you pushing information to them but it should be a dialogue where your customers can easily communicate what their concerns are. You should respond to their concerns quickly and directly. Knowing that you are responsive to their concerns will go a long way to boosting confidence and reducing anxiety.
Collaborate with your vendors proactively
Find out what new policies your vendors have established regarding COVID-19. Work with them to establish efficient procedures that mitigate the transmission of Coronavirus. If you determine that they are not taking proper precautions and are unwilling to work with you, you should reevaluate your relationship with them.
Although we are all eager to move past these last couple of months, it is prudent to move ahead cautiously. Keep our businesses and employees healthy by making the proper adjustments. We encourage you to check out our article on five ways to lower employee anxiety about Covid-19 and returning to work. To learn more about working with XcelHR you can email us or call us at (800) 776-0076.